Scale your Kickstarter with our ad technology for facebook ads
What we do?
We have managed to scale many Kickstarters to $1m or more.
Guarantee for success
We Guarantee A Return Of
500% - 1500%
On The Ad Spend.
Technology
We use heavy technology in the background to manage the ads and optimize return on spend.
Creative
Our design team will create and test multiple videos, images, slogans etc. (based on your project & media kit).
Setup fee
No setup fees. No hidden costs.
Who pays for the ads?
Ad spend will be paid by the campaigner. For those without funding, we have several partners we work with who can finance the cost of the ads.
Test and daily budget
Unless you are a serial creator, we like to start slow and safe with a test budget of maximum $1,000. The test lasts 24-48 hours. A good test result will be a return of 500% - 1500%. Our goal is to gradually increase the daily spend.
Risk management
1. You can cancel anytime via email or phone.
2. A realtime dashboard with the current ad spend and results will be provided for full transparency.
3. Ongoing communication channel between Green Inbox team and the campaigner.
Fee
Our fee will be 10% on all pledges.
Example: Kickstarter Referral Table.
The campaigner pays a fee (%) only on the records marked in yellow which include the word "greeninbox".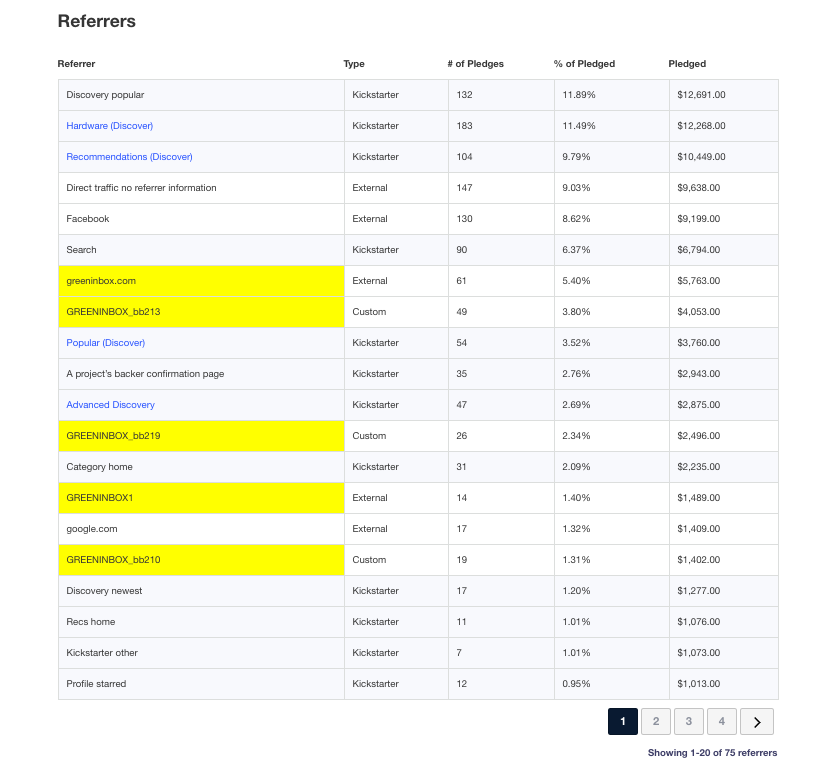 Terms & Conditions


Objective

1. The terms in this page reflects the agreement between (A) Green Inbox and the (B) campaigner.

2. Green Inbox will promote the crowdfunding campaign on behalf of the campaigner.
Green Inbox will create and manage advertising campaigns on Facebook and/or Google.

2.1 Media purchase will be made by the campaigner.

2.2 Green Inbox fee will be ten percent (10%) of funds raised on Kickstarter.

Permissions

3. IP: Green Inbox can use the campaign's intellectual property for promotional and marketing purposes.

4. Data: Green Inbox can view and use campaign-related data such as referrers, backer report, etc.

Termination & Guarantee

5.1. Both parties may terminate this contract at any given moment by an email notice.

5.2 In the first 24-48 hours, Green Inbox will conduct a test with a budget of $300 per day.
If the return is below 500%, the Campaigner has the option to terminate the contract without paying Green Inbox fee (section 6). This option is only valid within the first 48 hours (i.e the guarantee).

Payment

6. Green Inbox commission fee can be paid once the campaigner gets the funds from the platform.

-
End of Terms & Conditions

Disclaimer
Terms may change, and can be different from campaign to campaign.
How do I join the program? Do I Qualify?
Please contact us by email so we can check if you qualify to join the program.
Please also include a link to your campaign in the email so we can start a review process.
You can contact us by using the email: ads [at] greeninbox.com.
See Success Stories
Frequently Asked Questions
How can we track the ad spend and results?
We will provide a live dashboard where the campaigner can see the ad spend and results updated in realtime.
How can I finance my campaign?
For those without funding, we have several partners we work with who can finance the cost of the ads.
Green Inbox Review Process
We are limiting the number of campaigns we work with to 4, so we are very selective about the campaigns we work with.
Overall, we are looking for campaigns that according to our analytics team, can reach seven digits.
How can I trust you?
We understand that *Trust* is everything ... so if you pass our review process, we can make introductions with Kickstarter campaigners that recently worked with us.
You can also see some testimonials below.
Do you work with Indiegogo or Indiegogo inDemand?
No.
We recommend launching your project on Kickstarter and then shift to shopify.
Success stories and testimonials · Facebook Ads